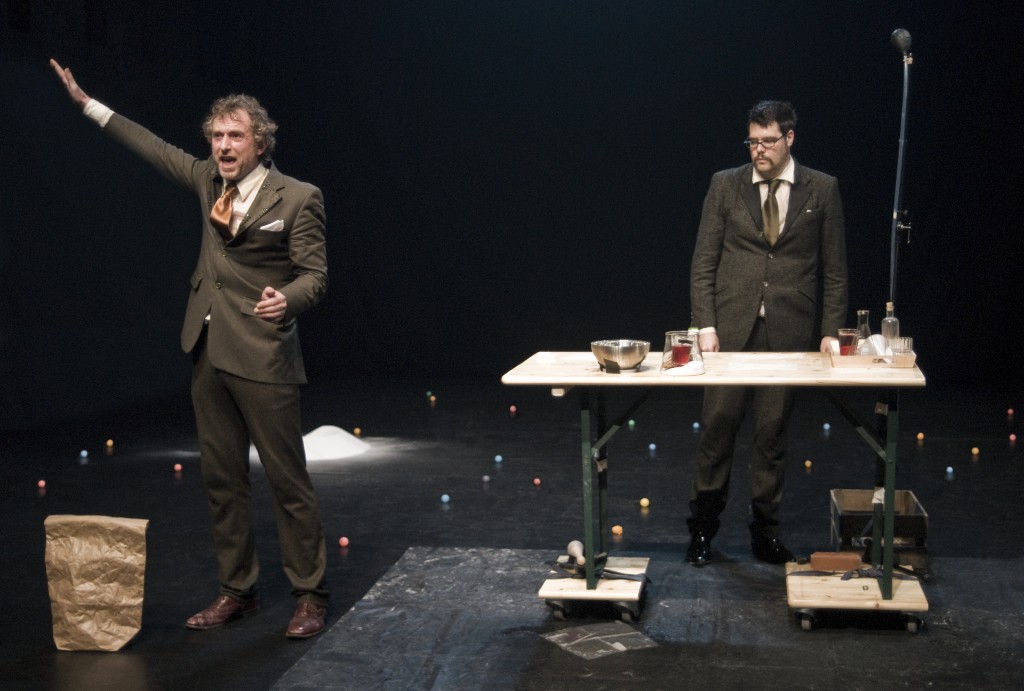 Let me just say this – tonight is a night of stripping, tonight is a night of peeling away, layer by layer by layer by layer – What will be left? What will we know at the end of it all? Much less! That's what!
Let's begin….
Dark Matter a performance from Kate McIntosh hosted by a woman in a spotlight, dressed in a sparkling dress and a long grey beard. With the help of two assistants, some small strange dances and a few materials you might or might not have at home, Dark Matter approaches the big scientific-philosophical questions in a full-on show-biz late-night theatre style, illustrating these knotty conundrums – time and gravity, being and not being, thought and the body – through what look suspiciously like a series of improvised home-science experiments.
A project by Kate McIntosh
Performed by Thomas Kasebacher, Kate McIntosh, Bruno Roubicek
Text Kate McIntosh & Tim Etchells
Sound design Mikko Hynninen
Light design Minna Tiikkainen
Costumes Sofie Durnez
Dramaturg Pascale Petralia
Technical director Joëlle Reyns
Production Margarita Production for TOF vzw
Tour Management SPIN
Coproducers CONNECTIONS Network, Kaaitheater (B), Les Spectacles vivants – Centre Pompidou (F)
In partnership with De Pianofabriek (B), STUK Kunstencentrum (B), WorkSpace Brussels (B), WP Zimmer (B), fabrik Potsdam in the frame of Tanzplan Potsdam: Artists-in-Residence (D), Sophiensaele (D)
With the support of de Vlaamse Overheid, Vlaamse Gemeenschapscommissie
CONNECTIONS is a mentorship and production initiative of the theatre festival SPIELART Munich in Cooperation with CAMPO – Gent, Republique – Copenhagen, Forum Freies Theater – Düsseldorf, Theaterhaus Gessnerallee – Zürich, Huis en Festival a/d Werf – Utrecht, Choreographisches Zentrum NRW/PACT Zollverein – Essen, Theater im Pumpenhaus – Münster, Kanuti Gildi SAAL – Tallinn, The Student Center – Zagreb, Koproduktionshaus brut – Vienna.
DATES
22 – 24.01.2015  PuSH Festival, Vancouver (CA)
21.04.2013           Exodos Festival of Contemporary Performing Arts, Ljubljana (SI))
30 – 31.07.2012  Parque Cultural, Valparaíso (Chile)
28 – 29.06.2011  SommerSzene [Szene Salzburg], Salzburg (A)
28 – 29.04.2011  Plateaux festival [Künstlerhaus Mousonturm], Frankfurt (D)
13.04.2011            TUPP festival [Perfect Performance], Uppsala (S)
02.04.2011           Centre Pompidou, Metz (F)
30 – 31.12.2010   brut, Vienna (A)
20 – 21.11.2010    Hebbel Am Ufer, Berlin (D)
12.11.2010             Frascati, Amsterdam (NL)
01.11.2010             Grand Theatre, Groningen (NL)
02 – 03.10.2010  Fabrik Potsdam [Werkschau Tanzplan Potsdam], Potsdam (D)
24 – 25.09.2010   Monty, Antwerpen (B)
28 – 29.05.2010   Festival a/d Werf, Utrecht (NL)
12 – 13.05.2010    Pact Zollverein, Essen (D)
23.04.2010           KONTRAPUNKT 2010 [Puppets' Theatre Pleciuga], Szczecin (PL)
18 – 20.03.2010  Centre Pompidou, Paris (F)
18 – 20.02.2010  brut, Vienna (A)
11 – 12.02.2010   CAMPO, Gent (B)
17 – 18.12.2009   Théâtre Arsenic, Lausanne (CH)
04 – 05.12.2009 Theaterhaus Gessnerallee, Zürich (CH)
28 – 29.11.2009  Theaterfestival Spielart, München (D)
21 – 22.11.2009   Kaaistudio's, Brussels (B) – PREMIERE